MELVINDALE, Mich., Aug. 11, 2014–
Evans Distribution System is recognized as a Top 100 Third Part Logistics provider for 12 consecutive years according to Inbound Logistics magazine. Evans is also celebrating its 85th year in business this year.
Evans Distribution Systems proved to be among the top 100 best logistics providers including warehousing, transportation, packaging and value added logistics companies.Each year, Inbound Logistics editors select the best logistics solutions providers by carefully evaluating submitted information, conducting personal interviews and online research, and comparing that data to our readers' burgeoning global supply chain and logistics challenges. IL editors selected this year's class of Top 100 3PLs from a pool of more than 300 companies. The service providers we selected are companies that, in the opinion of IL editors, offer the diverse operational capabilities and experience to meet readers' unique supply chain and logistics needs.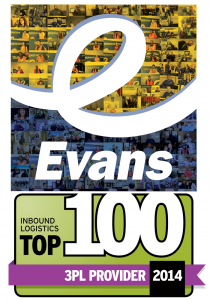 "Our passion for our work is the reason we have customers that have been with us for 30 years," said Leslie Ajlouny, vice president of business development, Evans Distribution Systems. "It's an honor to be recognized by the industry and our peers as one of the best logistics providers." Evans Distribution Systems has a great success story, especially in the last seven years. Evans now has a presence in 10 states with 30 locations, some of which are dedicated operations for specific customers. More recently, Evans has established a presence in Baltimore, MD and Richmond, VA to support two unique customer operations. One of which is a staffing solution, the other is a light-manufacturing facility.
"World-class logistics performance is crucial for companies of all sizes – from Fortune 500 to SMBs. Given the scope and scale of that challenge, IL editors recognize that Evans Distribution Systems provides the kinds of solutions that companies large and small rely on to solve the tactical logistics issues of serving customers better, faster, and more efficiently. Evans Distribution Systems is responsive, and continues to anticipate evolving needs by also offering the strategic solutions required to drive business process improvement and change for customers. For those reasons, Inbound Logistics editors are proud to recognize Evans Distribution Systems as one of our 2014 Top 100 3PLs."
About Evans Distribution Systems
Evans Distribution Systems, headquartered in southeast Michigan, was founded in 1929 as the Central Detroit Warehouse Company. It has evolved into a full-service, third-party logistics provider offering warehousing, transportation, contract packaging and staffing to the manufacturing, food and beverage, consumer goods, and chemical industries. Evans currently employs more than 700 associates and operates over two million square feet of space in Michigan and across the U.S. Find more information on our website, easierwithevans.com. Read the latest supply chain insights at Evans' blog, or follow the company on Facebook and Twitter.
About Inbound Logistics
Inbound Logistics the leading trade magazine targeted toward business logistics and supply chain managers. The magazine's editorial mission is to help companies of all sizes better manage corporate resources by speeding and reducing inventory and supporting infrastructure, and better matching demand signals to supply lines. More information is available at www.inboundlogistics.com.