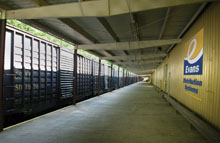 Reduce transportation costs by utilizing transload services at our warehouse facilities
Evans Distribution Systems offers customers the opportunity to reduce costs and increase efficiencies and flexibility within their supply chain network through transload services at any of our warehouse facilities.
What is Transloading? Transloading means we handle your freight directly from one mode of transportation into another mode of transportation. This could include rail, ocean, or truck. Typically freight being transloaded is not inventoried by the warehouse or stored for any amount of time.
Why Transload? The advantages of transloading depend on your particular supply chain network, but could include:
Improved service and responsiveness
Greater flexibility within your supply chain
Lower inventory levels
Increased throughput
Reduced transportation costs
Shorter transit times
I have worked with Evans for over 5 years and they continue to impress me with their level of professionalism and their commitment to quality. Their ability to flex up or down with our service needs has been instrumental in retaining our customer contracts.
Rail Moving freight long distances via rail can be a very economical and efficient form of transportation, especially for heavier freight. Evans Distribution Systems operates rail-served warehouse facilities in Michigan with direct rail access from both NS & CSX. Freight from inbound railcars can be transloaded into containers for overseas shipping, or into trucks for domestic delivery. If you need to ship your freight via rail, but are not rail served at your own facility, we can consolidate truckload shipments at one of our facilities and then ship outbound via our rail-served warehouse.
Ocean If you are importing or exporting through the Port of Norfolk in Virginia, you can take advantage of our drayage services. Most often the containers must be returned to the same Port, and taking it a long distance and then returning it can be very expensive. If your end destination is not close to Norfolk, VA you can take advantage of lower transportation costs by transloading this into a trailer for domestic movement. If all of the freight in the container is not headed for the same destination, we can use a partner facility as a point to unload, sort, palletize and stage for shipping to various customers. If you're end destination is the Port of Detroit, we have facilities close to here as well.
Truck If you are shipping from U.S. destinations into Canada, a transload in Detroit, MI near the Canadian border can be very cost efficient. With the ever-changing complexities for cross-border carriers, there has been a reduction in the number of carriers willing to handle this type of freight. If you have established carriers with great rates, take advantage of using them all the way to the border and then transload onto a Canadian carrier. The cost savings for splitting the freight between a U.S. and Canadian carrier, more then covers the cost of transloading the freight between the two trailers.
Our transload services can be combined with any of our other warehousing and distribution or transportation solutions for a completely integrated logistics solution.
Contact Us to learn more about our transload services, rail-served facilities, or any of our other logistics services.