According to the CSCMP State of Logistics Report, third-party logistics providers (3PLs) have become an important asset to manufacturers and companies that have experienced severe disruptions in warehousing and transportation during the pandemic.
A 3PL provides a variety of logistics-related services including transportation, distribution, warehousing, value-added or fulfillment services. A 3PL receives customer's products in a warehouse using their own equipment and employees. Or they can manage the operations from within a customer's facility, known as contract warehousing.
As outsourcing 3PL services becomes more essential to our economy, Evans Distribution Systems outlines the most important advantages to partnering with a 3PL provider.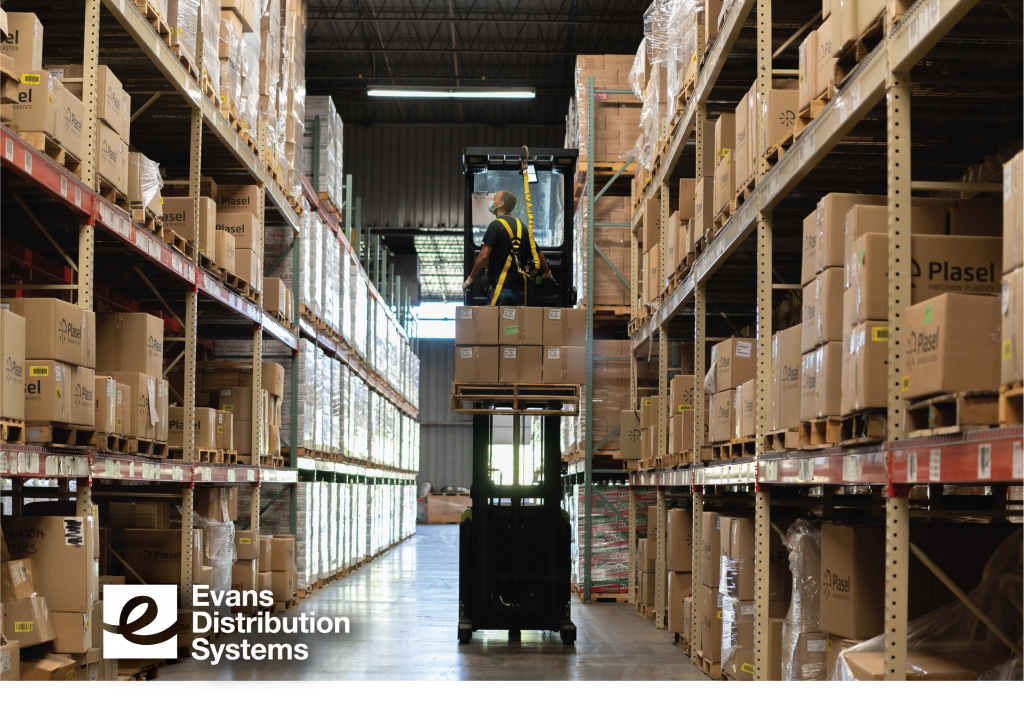 1. Key Objectives to Outsourcing
Customers generally have specific outsourcing objectives when seeking a 3PL solution. The five most common objectives are:
Flexibility (short-term, longer-term scalability)
Optimized operational performance and technology
Access to resources (labor, material handling equipment, technology)
Extended reach to various parts of the country
Reduced costs
In-house warehousing can turn into a significant operational expense for manufacturers. A 3PL provides its customers all the operational and technological advantages to optimize its supply chain. With expertise and equipment in place, a manufacturer relies on the partnership to ensure there are no disruptions.
2. 3PL Advantages
Today, 3PLs have expanded their service offerings to become an end-to-end solution provider for a variety of customers. Their knowledge and expertise optimizes a customer's supply chain. The advantages of working with a 3PL include:
Access to innovative solutions to optimize supply chain processes and overcome challenges.
Relationships with knowledgeable industry partners such as freight forwarders, customs brokers, packaging manufacturers and software engineers are highly valuable.
Communication from dedicated account managers on reporting of inventory levels, transportation routing and receiving/shipment info.
Improved performance from management software and inventory data provide real-time metrics that customers may have difficulty tracking on their own.
3. Cost Benefits of a 3PL
3PL's are the experts in logistics and have the relationships and infrastructure in place to efficiently manage product and costs on a micro-level. Optimized performance reduces discrepancies in labeling, transportation, inventory management, and order processing. Reduced issues equate to less claims and lower costs. Other cost benefits include:
Accessible on-hand inventory; faster order processing.
Increased capacity in key areas; reduced shipping fees.
Operational efficiencies; less unexpected fees.
Improved customer service; more eyes on the process.
Enhanced technology provides automated operations.
Increased security and safety measures with qualified labor.
4. Warehouse Operational Benefits
When it comes to warehousing operations, there are several key benefits to working with a 3PL.
System integrations—a warehouse management system can fully integrate with your order processing software, thereby reducing the need for manual orders.
Inventory management—3PLs provide monthly and daily inventory reports for customers. A 3PL has full coverage of on-hand inventory down to the SKU level.
Customized solutions—customers provide the warehouse managers specific work instructions for handling and storing products. This includes loading and unloading instructions, process-related instructions, storage requirements, temperature restrictions and much more.
Labor management—during times of high turnover, 3PLs have resources to recruit and retain the most qualified labor. Associates are trained on specific account requirements and safety measures.
Value-added services—3PLs do not have a one-size-fits-all customer and have expanded into offering unique value-added services. This includes repacking, co-packing, kitting, bundling, custom packaging, inspection, testing, and more.
Certifications—many 3PLs, like Evans Distribution Systems, have acquired certifications that allow them to provide more offerings to a variety of customers. These include liquor licensing, food-grade certification, and ISO 2015:9001 certification. We also have Foreign Trade Zone and bonded warehousing for imported goods.
5. Transportation Operational Benefits
On the transportation side, a 3PL is a reliable partner to ensure your goods are delivered on time and undamaged.
Asset-based transportation—Evans Distribution Systems provides customers with an in-house asset-based transportation solution for local and regional shipments. These are usually dedicated routes for customers who are repeatedly shipping materials to the same place.
Non-asset-based transportation—For over-the-road or quick turnaround shipments, Evans Distribution Systems provides a brokered solution to handle every aspect of the shipment and documentation.
Transportation technology—3PLs use a transportation management system to track shipments, optimize routing and maintain proper documentation. Drivers are equipped with tablets, cameras, and tracking devices to maintain load visibility.
Qualified drivers—To ensure a safe and damage-free shipment, 3PLs recruit drivers that have CDL-A licensing, optimal safety records, and several years of experience on the road.
An outsourced 3PL solution gives customers the freedom to focus on their core operations while having a strong supply chain system. There are many benefits to working with a professional 3PL like Evans Distribution Systems.
If you're interested in connecting with a 3PL expert, please contact us.