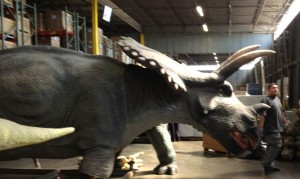 We have handled old inventory, obsolete inventory, even what we would consider ancient inventory, but recently we had the opportunity to handle truly prehistoric inventory at our Melvindale, Michigan warehouse.
Our warehouse team supported a project requiring the delicate transloading of the "Dinosaurs Unearthed" exhibit recently displayed at the Detroit Science Center.  This project was far from typical as we quickly realized the exhibit materials actually included full size animatronic replicas of dinosaurs, the materials necessary to create a lifelike outdoor environment indoors (artificial rocks, trees, mulch, bamboo, etc…) and even dinosaur fossils.
This project is just one more example of why we love this business.  Every day we have the opportunity to work with interesting people from lots of different industries, and we get to handle all kinds of inventory. From tequila …to coffee …to flammable chemicals …to biological pest control agents …to a T-Rex (check out our previous post on the Top 10 Unique Items we've handled).
New challenges seem to pop up every day in the logistics field presenting every member of our team with new opportunities to learn…and we LOVE it!