We now live in a world where the threat of terror has intruded upon everyday life. Moreover, there is no longer any industry that is safe from attacks. Even the supply chain industry can find no reprieve from it. It could even be said that the industry is a prime target for attack because it is the lifeblood of millions of organizations around the world. Furthermore, there are numerous ways the logistics industry could be used to deter the recovering economy, which is why the United States Customs and Border Control decided to face terrorism head on.
A Collaborative Effort
In an effort to curb future terrorist acts against the supply chain industry, the United States Customs and Border Control (CBP) launched the Customs-Trade Partnership Against Terrorism (C-TPAT) program in November of 2001. The program required that a collaborative effort between the United States Government and businesses involved in importing goods into the United States take place. The CBP recognized that in this ever changing world, change could not be brought about without the involvement of the supply chain industry in the process of securing and inspecting cargo. With this partnership in place, border security will be more efficient.
C-TPAT Membership
Membership in this global initiative is open to most businesses who import or export goods into, or out of, the United States. It includes freight carriers, brokers, manufacturers, and retailers. As long as the organizations adhere to the guidelines of the membership, they are welcome to partner with the CBP.
If a business is interested in joining C-TPAT, it first fills out an application that includes information about the business, an agreement to participate, and a profile of their supply chain, which includes a validation of the way in which goods are handled. Examining the supply chain involves looking at procedural, physical, and personnel security, along with access controls, how packing manifests are handled, and what sort of education and training employees receive. If the application of the business to join the group is approved, it is assigned a Supply Chain Security Specialist who evaluates the supply chain and provides suggestions for improvement before certifying the business as a member
Benefits of Being C-TPAT Certified
Businesses that import or export goods are not required to be C-TPAT certified. Most large companies however, have joined because of the advantages that come with it. Benefits such as reduced border wait times, front of the line processing for inspections when possible, and the assignment of a C-TPAT Supply Chain Security Specialist (SCSS) who will work with the company to validate and enhance security throughout the company's international supply chain. Companies can also take advantage of C-TPAT trainings for themselves and their employees, to learn about more ways to tighten the security of its supply chain.
Another benefit is the United States has also signed Mutual Recognition arrangements with several countries, which means that they have agreed to common security requirement standards. This ensures that the validation of a company in one country is recognized in the other. Tier II C-TPAT certified U.S. importers are also 3.5 times less likely to be selected for a security based examination, whereas Tier III C-TPAT certified U.S. importers are 9 times less likely to be selected. Members who are C-TPAT certified also have the ability to acquire a Free and Secure Trade (FAST) pass, which will expedite clearance across the borders between the U.S. & Canada/ U.S. & Mexico via dedicated FAST lanes.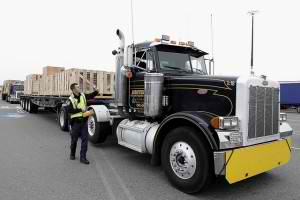 Customer Benefits
The benefits that come alongside a C-TPAT membership are not limited to supply chain companies. It also has the potential to benefit customers by guaranteeing that your goods will be delivered without the normal delays at the border. This in turn will cut transportation times, saving you more money. It will also help the cost of shipping be more stable due to the lack of customs fees, cargo fees and inspection fees that the supply business would normally have to pay.
References:
http://www.cbp.gov/border-security/ports-entry/cargo-security/c-tpat-customs-trade-partnership-against-terrorism
http://www.wisegeek.org/what-is-c-tpat.htm