Who would think a career in logistics could be so intense? Fast paced, intense AND interesting.  Yes, we are talking about a career in logistics. This broad reaching, expansive industry has lots to offer.  A career in logistics is also a lot more interesting than you may think.  The logistics industry is fast paced to keep up with global consumer demands.  For this same reason, there is a need for advanced technology in the industry and the people to create, operate and maintain that technology.  Here are our reasons to consider a career in logistics.
It's a Growing Industry
As companies sent manufacturing overseas and/or outsourced portions of their production it gave a huge boost to logistics providers. Companies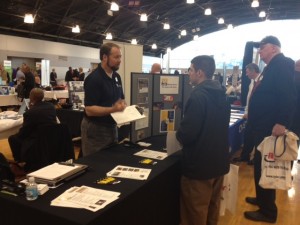 look to experienced partners to help them develop integrated logistics solutions that ensure their products get from point A to point B, no matter how far apart those two points may be. Globalization has pushed companies to look at logistics as a way to remain competitive.
Opportunities for All Education Levels
No matter your education level there is a career for you in the logistics field. This is an industry that has entry level positions (forklift operator, material handler, truck drivers), mid-level positions (operations managers, logistics analysts, purchasing) and of course upper management as well.
Variety Keeps it Interesting
If you like to keep things interesting on the job, consider a third-party logistics provider. These companies are typically working with a variety of clients in a wide variety of industries. This means you could be dealing with food one day, clothing the next, chemicals another day, automotive parts yet another, and so much more. As a logistics professional, you may be working with a start-up company or a Fortune 100 company. You have an opportunity to learn about diverse industries, companies and cultures which definitely helps to keep things interesting.
Opportunities for Advancement
This is an industry that loves training their people. Ongoing training allows employees to grow and move forward within their companies and the industry. Here at Evans we've got numerous examples of this: drivers that have become dispatchers, dispatchers who have become managers, and customer service personnel who are now in upper management positions. On-the-job training and continued education can definitely take you places in this industry.
It Doesn't Really Matter Where You Live
This is an industry that is not partial to a particular state or region. Products have to get all over the world which means there is a need for logistics providers virtually everywhere. Although there are definitely areas with a large representation of players (i.e. Los Angeles & Chicago) you might be surprised at how close to home you can find a logistics company.
Women Are Stepping Up
This is an industry that has long been dominated by males, but over the years the presence of women in leadership positions has been trending up. Although challenging, the rewards for women in logistics can be great. It's a field that is looking for women leaders and can provide you with an opportunity to become a leader not just within your company, but within the industry as a whole.
Get Trained by the Government
The U.S. military is probably one of the largest trainers of employees in the logistics field. Logistics is an essential operation to military services and many people come out of the military with great hands-on experience in the logistics field. We have had the privilege many times over to work with some incredibly talented people who received their education and training this way.
Gain International Experience
Logistics is an international business and most companies are dealing with both domestic and international customers. This industry can help you develop relationships around the globe, and possibly even offer an opportunity to work in other countries. If you are fluent in a second language (i.e. Spanish, Korean, German, etc.) that's a bonus for your employer, and it could give you a boost up through the ranks.
Broad Business Disciplines
Unlike most professions in the business world which require a focus in one area such as Accounting, Finance, or Marketing, most jobs in logistics provide professionals exposure to a wide variety of disciplines including manufacturing, materials management, inventory control, facility management, procurement, transportation, etc. Supply Chain Management touches so many aspects of business from the procurement of raw materials, through the manufacturing process, all the way to distribution to end consumers. This not only requires talent and versatility, but also makes jobs in logistics both challenging and interesting.
Work With Great People
Ok, we may be biased, but we believe logistics professionals are some of the best people in the world to work with. Perhaps it's because being successful in logistics requires tremendous versatility and demands hard work. All we know is that we are proud to call ourselves Logisticians or Supply Chain Management professionals and that we have a passion for this business that we are eager to share with new recruits.
Visit our Careers page to see current opportunities in logistics, www.evansdist.com/careers.aspx