For most people, Easter is not just a holiday, it is a reminder that warm weather and sunlight exists. Its also marks the transition from winter to spring, which has made it one of the most widely anticipated holidays in America. Furthermore, it is also a time for retailers to lure in new customers through promotions and discounts on seasonal and holiday merchandise such as garden equipment, Easter items,  and spring inspired clothing.
A spike in consumer spending during Easter has been an annual trend for an extended period of time. In 2014, consumers spent a whopping $15.9 billion during Easter, but due to the current upswing in the economy, Easter 2015 is expected to be busier than last year.
More is the Word for 2015
The National Retail Foundation (NRF) annually measures consumer behavior during different holidays throughout the year. For Easter this year, they surveyed an estimated 6,000 people aged eighteen and up. During their process, it was apparent that Easter was still a beloved affair for both young and old people. In fact, it has become so popular that consumers are expected to spend $16.4 billion during Easter 2015. The warmer weather is also expected to be another driving factor for the increase of sales, as numerous states had to endure a record breaking winter.
It is widely known that if retail is doing well, then the economy is too (and vice versa). With the economy doing better than it did during the same period in 2014, then there will invariably be an increase of sales that will transpire this Easter. Furthermore, the NRF stated that 80 percent of those surveyed are not only looking forward to a fun-filled family holiday, but they are also looking to spend an average of $140.62. This is slightly more than the $137.36 spent per person in 2014.
The Impact on Different Markets
Just like any other holiday, people will be spending in numerous ways to celebrate Easter. They will not only purchase gifts, food, and candy but they will also use this time to revamp their wardrobes to prepare for warmer weather. Here is a preview of what consumer behavior will be like this Easter:
Clothing

45% of consumers will buy clothes to improve their wardrobe
$2.9 billion will be spent on bright clothing for themselves and family

Food

85.7% will buy food for family or other festivities
$5.3 billion will be spent on Easter fare

Candy and Gifts

87.1% of those celebrating will buy candy
$2.2 billion will be spent on candy
$2.4 billion will be spent on gifts

Miscellaneous

$1.1 billion will be spent on flowers
$998 million will be spent on decorations
$695 million will be spent on greeting cards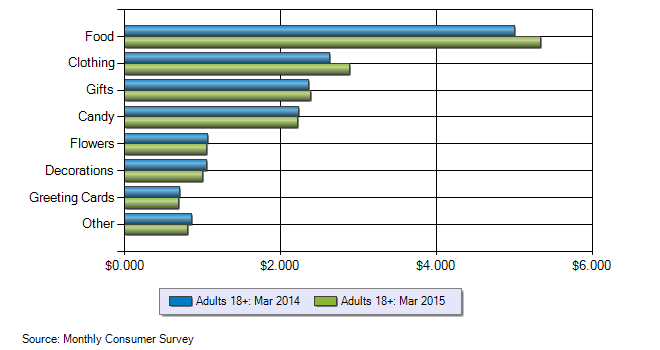 Variation in Purchase Locations
Consumers are also expected to make their purchases in different locations: 58.6% at discount stores, 40.7% at department stores,  23.8% at local businesses, 21.8% at specialty stores, and 18.8% online.
Resources:
https://nrf.com/media/press-releases/consumers-the-hunt-candy-new-spring-apparel-this-easter