by Derek Byrd, Marketing and Inside Sales Manager at Evans Distribution Systems
Logistics is one of the worlds largest industries and there are many industry terms that come with such a presence.  For anyone in transportation, knowing these terms can be useful in conversations and every day business.  The following is a list of commonly used freight hauling terminology.  There are many other terms that those listed here.  However, these terms are intended to help with a general understanding of freight hauling.
Dry Van – Dry vans are the most common type of freight trailers hauled by commercial trucking companies. Van carriers move freight that is loaded into a semi trailer. Semi trailers are typically between 26 and 53 feet.
Reefer or Refrigerated Freight – Reefer freight, short for refrigerated freight, is a method of transport used when the goods being shipped need to be kept refrigerated or frozen. The temperature of the shipping container cannot rise above a predefined limit in order to preserve the quality of the shipment.  Reefer freight is commonly used to transport food commodities such as produce, fruit, meat, seafood, poultry, eggs and dairy, but it can also be used to ship temperature sensitive goods like medication.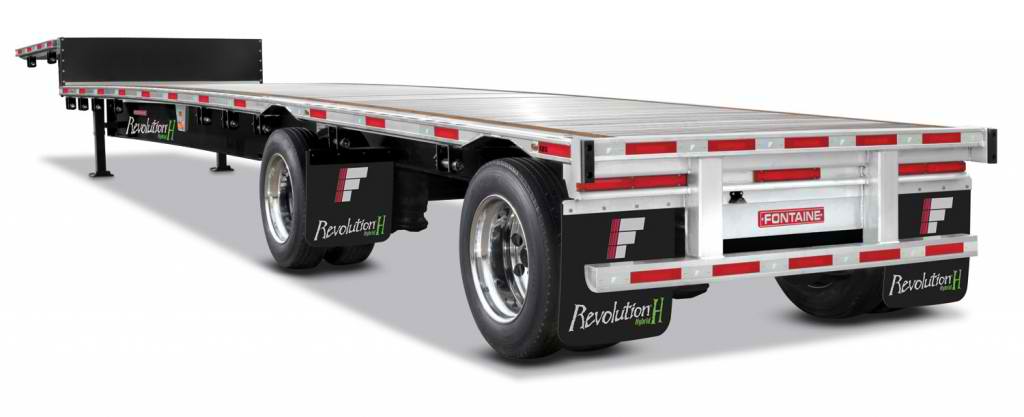 Flat Bed – As the name suggests, it has an entirely flat, level 'bed' body with no sides or roof. This allows for quick and easy loading of goods, and consequently they are used to transport heavy loads that are not delicate or vulnerable to precipitation, such as construction equipment, and also for abnormal loads that require more space than is available on a closed body. These can also haul oversize and other freight that is just not suitable for loading inside of a trailer. The loads needed to be secured more cautiously and sometimes covered with a tarp in inclement weather.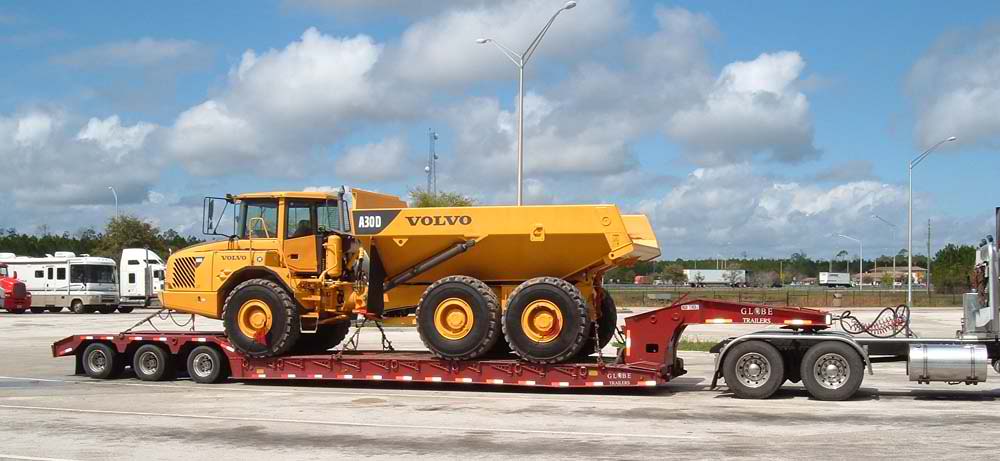 Double Drop Deck (aka Low Boy) – A lowboy  is a semi-trailer with two drops in deck height: one right after the goose-neck and one right before the wheels. This allows the deck to be extremely low compared with other trailers. It offers the ability to carry legal loads up to 12 ft (3.66 m) tall, which other trailers are not able to do. Lowboys are used to haul heavy equipment such as bulldozers, front-loaders, industrial equipment etc.
Tanker – A tank truck is a motor vehicle designed specifically to haul liquids or gases on public roads using a cylinder-shaped, horizontal cargo bay. There are numerous types of tank trucks on the road, differentiated by their size, what substances they transport, and how much volume they can haul. The size of a tank truck can vary, but they tend to be large and many are classified as semi-trailer trucks. The largest tank trucks, usually reserved for long hauls, that transport materials long distances can carry up to 9,000 gallons (about 34,000 liters). Smaller versions, often used for in-town transport, may haul 2,900 gallons (about 11,000 liters).
Bull Hauler – These trailers designed for the transportation of live animals. Most often cattle. There are a lot of special rules and regulations to hauling live animals.
Car hauler – Car haulers can be up to 75 feet in length and hold between six and 12 cars.  Some of the newer car haulers use approximately 23 valves, which activate almost 45 hydraulic cylinders or screws, which in turn place head ramps, cantilevers, stands, and decks in position to complete the loading puzzle.
Container Hauler – These are the metal containers that can be seen going across the country on train cars. Mostly dry freight or equipment is loaded into containers and shipped long distances, including overseas on ocean vessels or on rail car.
LTL Freight – LTL stands for "less than truckload".  This can mean any amount of freight that does not fill a trailer.
Freight Hauling Jobs
Class A Drivers – Any vehicle with a semi-trailer or trailer with two or more axles. This group also includes any combination of vehicle with a gross vehicle weight rating greater than 26,000 pounds, provided that the gross vehicle weight rating of the towed vehicle is in excess of 10,000 pounds.
Class B Drivers – Any Heavy Straight Vehicle with a gross vehicle weight rating greater than 26,000 pounds is classified in Group B, as well as any vehicle towing another vehicle not in excess of 10,000 pounds.
Class C Drivers – Any vehicle that is designed to transport 16 or more passengers (including the driver) or is used in the transportation of materials classified as hazardous in the Hazardous Materials Transportation Act.
Dedicated Drivers – Dedicated trucking jobs mean that a driver could be assigned to a specific customer or delivery location. These can be single routes or routes that alternate, depending on the company you are driving for.
Local Driving Jobs – Driving local is ideal for those drivers that want to be home daily, have a family or kids, or do not want the long-haul and long hours some truck drivers see.
Regional Jobs – Truckers driving regionally usually go as far out as two or three states from their local terminal. If their local terminal is at home then they usually get home after being out every two or three days.
OTR Trucking – Also known as over the road drivers are usually away from home as much as two or five weeks.  They go cross country from one location to another. This job can include driving many types of equipment.
Team Driving Jobs – Team driving is driving with two people, and requires you to have faith in another persons driving ability while you sleep.  Team driving can be the solution to drivers that may not be able to stay awake for extended periods of time.  Team drivers can make more money as a team if both people have equal ability at staying awake and driving no matter what time their shift happens to occur.
Pulling Hoppers/ Hauling Grain – Hauling grain is usually done with hopper trailers for easy dumping. It takes training beyond what it would take to pull a dry van so I call it a specialize area.
Heavy Equipment Hauler – Considered one of the toughest truck driving jobs to have.  Heavy equipment hauling is just that, hauling large, heavy loads, including tractors, farm equipment, construction equipment, industrial equipment, and items that are too heavy or too large to fit in or on a normal trailer or flatbed.
Visit our driver website for open truck driving positions. Check out our top 10 trucker apps for more handy tips for trucking.
References:
www.wisegeek.com
www.jiggyjobs.com
www.wikipedia.com
www.lifeasatrucker.com