In the doom and gloom of today's news it's important that we continue to look for that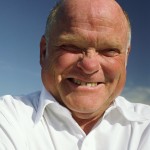 silver lining, right?  I think we are all doing a little of this everyday, but when you do hear some good news isn't it fun to share and pass it along. You know, bring a little sunshine back for everyone!  Well, here's a little good news (or a "Silver Lining") for those in the 3PL industry.
We have had a very busy summer and a recent article shows we aren't the only ones in the 3PL industry who have seen positive growth in volumes recently.  The TIA 3PL Market Report for 2nd Quarter 2010 shows that members outperformed the economy, with an estimated 8% increase in the number of shipments during the quarter, and a 13% increase in total dollars billed.  It's nice to see that with the continuing troubled stories of the economy that the 3PL industry continues to push forward.
This is not to say that the 3PL industry hasn't felt the weight of the downturn (in many ways I think we felt it before a lot of others), or that we think everything has turned around for the good just yet.  However, there are some real opportunities in our industry where we feel additional growth is on the horizon.
Logistics Staffing Services: As the economy returns to the "new normal" companies realize the importance and value of having a flexible work force.  Whether it's bringing in forklift operators, material handlers, or truck drivers, a 3PL offers so much more for companies than a traditional staffing company.  Understanding the industry positions and what's involved in recruiting and hiring (because they do it for their own operations) can be invaluable to HR departments who struggle with retaining employees with these skills, or dealing with an overflow or peak demand for the short-term.
Facility Management: Many companies with fixed assets in the way of buildings (warehouse, plant, distribution center, etc…) are discovering the benefit of utilizing a 3PL to manage operations within.   This could simply be a Manager on-site that oversees existing employees, or it could be a sub-set of staff that works with on-site management to meet the required supply chain needs.
Transportation Management: It's been talked about for awhile now and the tightening of capacity in the trucking industry may mean companies who have traditionally handled trucking in-house with their own employees are going to be reaching out more and more for partners to help them cover freight.  This type of collaboration is likely going to be needed as equipment and/or driver shortages for growing companies becomes more apparent in the near future.
So, there you have it.  We are thrilled to have spent a very busy summer working with existing and new clients, and even more thrilled that our esteemed colleagues in this industry had similar summers.  If you have thoughts on these areas or others where you feel 3PLs will excel in the near future we would love to hear your thoughts.