by Derek Byrd
Marketing and Inside Sales Manager, Evans Distribution Systems
What Is the Purpose of Transportation Hazmat Placards?
Transportation Hazmat placards are required for anyone who offers transportation of hazardous materials. The regulations governing the use of Department of Transportation Hazmat placards are quite extensive and can be a lot to learn.  We hope to provide a few good notes and resources to help you with any questions about transportation Hazmat placards.
Where to Place Placards
Each placard must be readily visible from the direction it faces.  Placards must be on each side and each end.  If coupled to another motor vehicle or rail car, visibility is not required from the direction it faces.  Placard a container or vehicle on each side and each end for any quantity of hazardous material it contains.  Some exceptions to these requirements exist based on the hazard and quantity present.  The Hazmat placard chart can be found here, and referenced below to help you find the correct placard for all types of Hazmat material.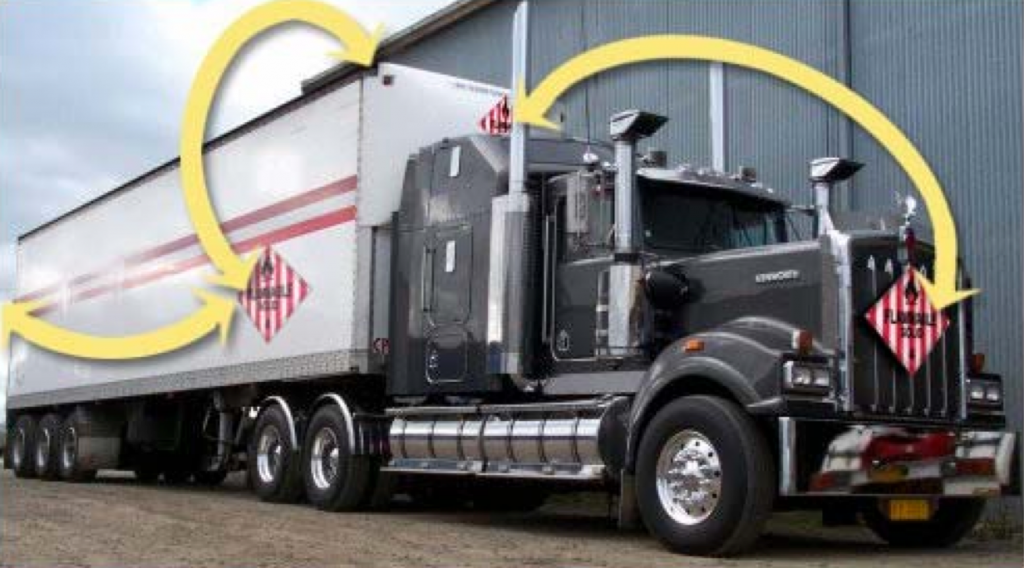 What Are the Guidelines on Use of Hazmat Placards?
Each person who offers for transportation or transports any hazardous material subject to the Hazardous Materials Regulations must comply with all applicable requirements of Subpart F [§172.500].
Placards may be displayed for a hazardous material, even when not required, if the placarding otherwise conforms to the requirements of Subpart F of Part 172  [§172.502(c)].
For other than Class 7 or the DANGEROUS placard, text indicating a hazard (e.g., "FLAMMABLE") is not required. Text may be omitted from the OXYGEN placard only if the specific ID number is displayed on the placard [§172.519(b)(3)].
For a placard corresponding to the primary or subsidiary hazard class of a material, the hazard class or division number must be displayed in the lower corner of the placard [§172.519(b)(4)].
Except as otherwise provided, any bulk packaging, freight container, unit load device, transport vehicle or rail car containing any quantity of material listed in Table 1 must be placarded [§172.504].
When the aggregate gross weight of all hazardous materials in non-bulk packages covered in Table 2 is less than 454 kg (1,001 lbs), no placard is  required on a transport vehicle or freight container when transported by highway  or rail [§172.504(c)].
Placarded loads require registration with USDOT. See §107.601 for registration regulations.
The new ORGANIC PEROXIDE placard became mandatory 1 January 2011 for transportation by rail, vessel, or aircraft and become mandatory 1 January 2014 for transportation by highway. The placard will enable transport workers to readily distinguish peroxide from oxidizers [§172.552]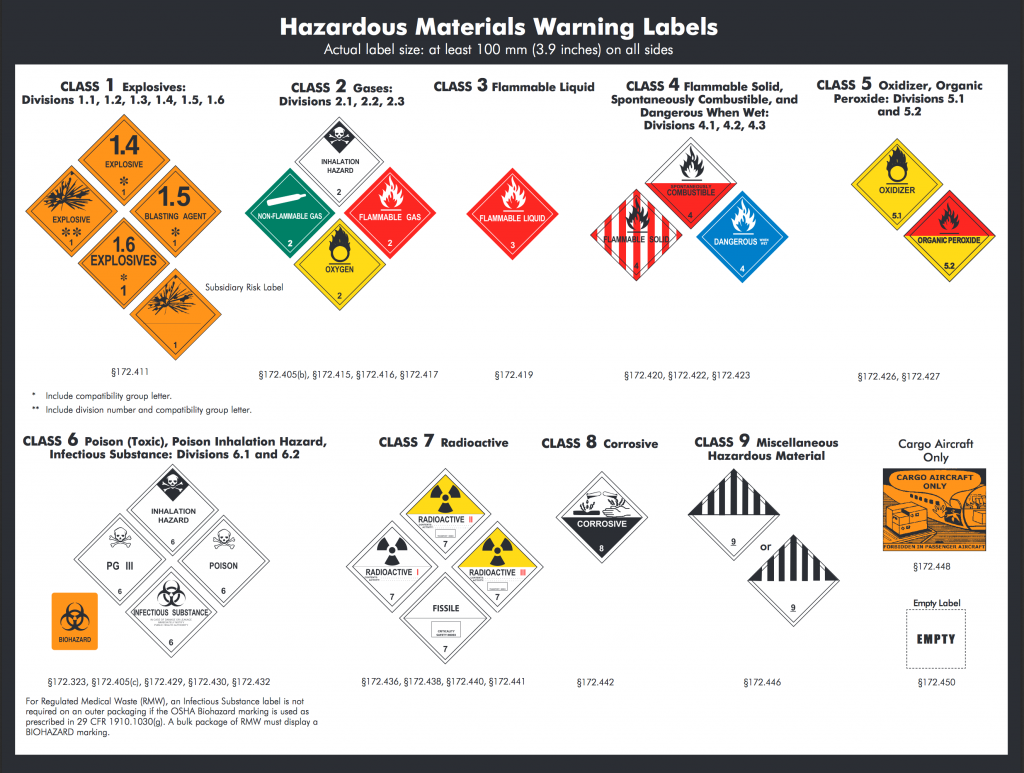 Joint Responsibility
It is the joint responsibility of the shipper and carrier to make sure the correct placards are affixed to the truck.  The Federal Motor Carrier Safety Administration (FMCSA) registration process requires that companies define the type of business operation (Motor Carrier, Broker, Shipper, Freight Forwarder and/or Cargo Tank Facility) that they plan to establish.  The FMCSA application can be found here.
Here Are a Few Good Resources We Found Useful For More Information on Hazmat Placards
http://www.fmcsa.dot.gov/sites/fmcsa.dot.gov/files/docs/Hazardous_Materials_Markings_Labeling_and_Placarding_Guide.pdf