Today's economy demands that a business be efficient in all manners of its operations. In order to compete with a rapidly growing market, a company must find ways to gain an edge over its competitors. Time and money must be spent to improve its competencies. What happens to that business if it cannot focus all of its energy on its core competencies? The result is that growth will not be significant, and in due time, it will invariably falter for this. For this reason, businesses choose to outsource to a Third Party Logistics (3PL) provider. In fact, over 85% of Fortune 500 companies utilize 3PLs, and the industry is still predicted to grow by 5.2%. The industry is also expected to have a profit of over $150 Billion by the end of 2014.
If the statistics are not convincing enough, then here are the top 10 reasons why outsourcing to a 3PL provider is beneficial:
It saves time and money
With the utilization of a 3PL you have the ability to reduce costs by eliminating the need to invest in warehousing space, transportation, and the staff required to execute the logistics process. You also do not need to worry and spend time on paperwork, billing, audits, training, staffing and optimization, for this is an area of expertise for 3PLs. By partnering with a 3PL provider, you are now able to focus more directly on your business' core competency.
It offers scalability and flexibility
Businesses become more flexible due to a 3PLs ability to scale space, labor, and transportation according to inventory needs. There is no need to stress about high and low seasons, as transitions can be handled more smoothly. If a business is in need of more space, a 3PL provider is just one phone call away.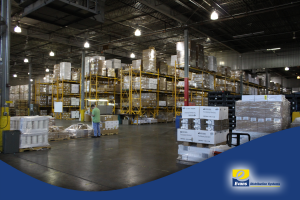 It makes valuable expertise accessible
3PLs are knowledgeable about the best practices in the industry, and all that knowledge and experience is available to you. Furthermore, in order to gain an edge in a competitive market, 3PL providers stay up to date with the latest developments in technology. The software that 3PLs create is capable of advanced reporting, inventory management, and provides visibility to monitor the entire logistics process. By outsourcing your logistics needs to a 3PL, your company is able to focus more on your core competencies while being ensured that your logistics needs are being handled by reliable, seasoned professionals. 
It has a diverse resource network
3PL providers constantly develop resource networks that enable efficiency to be maximized. These vast resource networks provide advantages over in-house supply chains. This in turn creates volume discounts, which result in lower overhead and the fastest possible service. By choosing a 3PL provider, you have access to resources that otherwise would have been unavailable, or costly, in-house.
It encourages continuous optimization
3PL providers are masters at coping with change. These organizations have the resources at hand to make the proper adjustments needed in each circumstance. 3PLs also have the ability to improve most links in the supply chain, ensuring that your needs are met in the fastest, most efficient and cost effective way. In short, 3PLs can help maximize profits, reduce wait times, and improve customer service.
It prioritizes advanced technology
With each change in technology the process of analyzing what your best options are become even more complicated. However, the latest software and technology can be accessed by partnering with a 3PL provider. So there the need to purchase the most up to date developments in technology is eliminated.
It maximizes growth rate
By utilizing a 3PL provider, you are able to save time and money, and this directly affects the growth rate of your company. Also, 3PL providers have warehouses in strategic locations all across the state, country, and even the world. With this benefit, businesses now have the ability to expand their market with minimal costs.
It ensures security
3PL providers must be up to date with the latest security regulations, which includes the C-TPAT, ISO, and Customs and FTC Regulations. 3PLs also manage carrier contracts, DOT safety ratings and insurance better than most shippers. What all this means is that you can be rest assured that your products will be handled in the most secure way possible.
It improves quality
Outsourcing to a 3PL provider ensures that you now have more capital. The advanced technology, multiple assets and expertise that come with 3PL providers also guarantee that your logistics needs will be satisfied. Also, since 3PLs thrive on efficiency, you can expect numerous aspects of your supply chain to improve as well.
It improves customer service
With the cost of acquiring new warehouses and new technology eliminated, your business can now focus more on customer service. You can ensure that they are left more than satisfied with the improved quality that the reduction of distractions procures.