Lithium-ion batteries power our world. They are found in many electronics and more commonly in electric vehicles. They are known for being light weight, high energy density, and rechargeable. However, if batteries are not stored and handled properly, they can pose a serious hazard. All batteries are different and come with specific requirements from the manufacturer. Here are a few basic requirements for most lithium-ion batteries.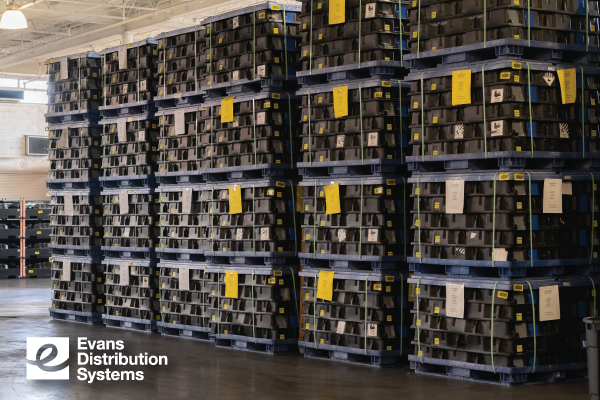 Storage of Lithium-Ion Batteries
The recommended storage temperature for lithium-ion batteries is 59 degrees Fahrenheit. Warehouses must have temperature-controlled storage options to ensure a reasonable temperature is maintained especially during summer and winter months. If battery temperature is compromised it can lead to fire, injury, and property damage. Storage at optimal temperature levels ensures a longer battery lifespan.
Generally, lithium-ion batteries are safely stored at 40% charge, but the manufacturer should specify the optimal charge level. A fully charged battery loses capacity at a faster rate and can cause internal heat damage, whereas fully discharged batteries tend to freeze more easily. Regardless of the charge, cell voltage should be monitored to somewhere between 2.0 – 4.1 volts.
Proper storage may also require specialized racking systems or crates. This design is related to the charging mechanism and preventing damage to the batteries. In multi-customer facilities, batteries should be stored in a cool and dry area separate from other goods.
Handling of Lithium-Ion Batteries
Batteries must be handled with delicate care in transport or during repacking. Do not disassemble, puncture, or crush the batteries. Avoid exposure of batteries to vibration or shock. If the battery is leaking fluids, do not touch the fluids while disposing of the battery properly.
It is recommended that the facility has a fire suppression system in storage areas. If a lithium-ion battery fire occurs, use a CO2 (Class BC) or dry chemical (Class ABC) fire extinguisher. A water-based (Class D) fire extinguisher should NOT be used to distinguish a battery fire.
Transportation of Lithium-Ion Batteries
Lithium-ion batteries are regulated as a hazardous material under the U.S. Department of Transportation's (DOT's) Hazardous Materials Regulations (HMR; 49 C.F.R., Parts 171-180). Lithium-ion batteries present electrical and chemical hazards if not properly transported based on HMR standards.
Before transportation occurs, lithium-ion batteries must have a valid battery test summary available to others while moving through the supply chain. Those tests must meet UN 38.3 test requirements. These tests account for transportation impacts including altitude, forced discharge, overcharge, thermal test, vibration, shock, impact, crush, or external short circuit. There are several shipping guides based on the packaging of lithium-ion batteries and their size. Among the regulations, lithium-ion batteries require proper labeling, employee training and emergency response information.
Follow the Manufacturer's Instructions
Bottom line, warehouses and transporters should follow a manufacturer's instructions. They are required by federal regulation to provide all handling and transportation safety requirements. These should be thorough and clear, according to the regulations. Documentation and labeling must be provided to everyone as the batteries move through the supply chain. If in doubt, follow up with the manufacturer directly before transporting or storing goods.
If an emergency occurs, make sure your employees have been trained to follow the emergency response plan and hazardous safety guidelines. Hazards may occur but it is the response that determines the seriousness of the outcome.
Resources
U.S. DOT Pipeline and Hazardous Materials Safety Administration
Lithium Battery Guide for Shippers