By Shawnia Brewer, Operations Manager Mount Elliott HazMat Facility at Evans Distribution Systems
Hazardous Materials training is essential to a well-functioning and safe HazMat facility.  The staff at Evans Distributions', Mount Elliott, HazMat facility had their tri-annual Hazardous Materials training on February 16, 2013.  Dustin Rayburn from FRG Corporation conducted the training and made the session not only informative but fun.  The training is an 8 hour session learning the ins and outs of hazardous storage, shipping, and waste disposal.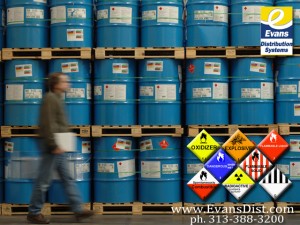 The training included general rules for receiving, storing, and shipping of hazardous materials.  How to prepare shipping documents, how to identify hazardous materials, and how to placard said hazardous materials.  The training was done specifically for the operation here at MTE so most of the information was specific to our operation but worldwide information was also discussed.
Important changes to the MSDS (material safety data sheets) and to the overall shipment of hazardous materials were discussed.  These changes include a global harmonization of hazardous information on the new SDS (safety data sheets) and the new labeling procedures going into effect the end of 2013 were discussed as well as the new tracking system by DOT for all hazardous shipments that will include new computer systems that you will have to input all hazardous shipments into so DOT can track them across the world.  This new computer tracking system was to go into effect the end of 2013 but has been pushed to begin sometime between 2015 and 2018.
All participants in the training were taught how to read an MSDS sheet and how to locate the hazardous information, storage information, and health hazard information on these documents.  This information is crucial to operating a facility like MTE because we not only want to protect our customer's product but more importantly we want to protect all of our employees that work with the material on a daily basis.
Sarah El-Awad is from the Evans sales and marketing department and wanted to sit in on the training to learn more about hazardous material for a better understanding on how to sell it.  She can now read MSDS sheets on her own and has a better understanding of the different classes of hazmat and how the different classes affect our storage operation here at MTE.
With these new regulations in place, best practices will be implemented across the board for the handling of Hazardous Materials.  When there are accidents on the road, HazMat teams and DOT will know exact quantity and what types of materials they are dealing with before they arrive on scene.  Ultimately, the new regulations will help prevent accidents and mishandling of Hazardous Materials.
Sources:
US DOT – http://www.fmcsa.dot.gov/safety-security/hazmat/complyhmregs.htm
Evans Distribution Systems – https://www.evansdist.com