By Joe Porubsky, Transportation Account Manager at Evans Distribution Systems
The transportation industry has been increasing their use of technology over the past decade. The biggest advancement in the past few years is truck on-board computers and e-logs. The Federal Government has changed their assessment on Transportation compliance and come up with CSA. This new assessment has taken a closer look at driver fatigue and reckless driving.
This new technology has made it easier for trucking companies to watch their workforce and ensure they are driving safe. These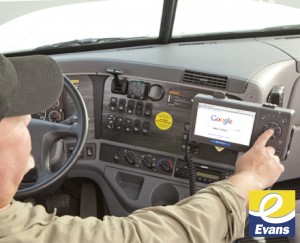 on- board computers can monitor idle time, hard breaking, and engine anomalies. This is not only useful in accidents, but in driver performance reviews. These monitors are very beneficial for a safety manager who can monitor these incidents and take action.
Another benefit of the on-board computers is maintenance data. The computer will monitor fuel economy, oil pressure, coolant temp, transmission, and other important truck monitors. This can allow a maintenance supervisor to keep an eye on his fleet and bring in trucks for maintenance overhauls.
These benefits are great for a modern trucking company, but the issue is the capital it takes to buy and install the equipment in a fleet. The cost of, for example, Qualcomm units per truck is $2,000.00. This cost does not include the TMS system to monitor in the dispatch office that cost in the 100's of thousands. If your company can not keep pace with the competitors then you will be left in their diesel wash.
Some customers require geo-fencing or GPS tracking to ensure they know where their freight is at all times.  This technology is great for high value freight, Hazmat freight or military freight. Transportation technology is essential in today's fast paced logistics world.
Sources:
www.fmcsa.dot.gov
www.omnitracs.com