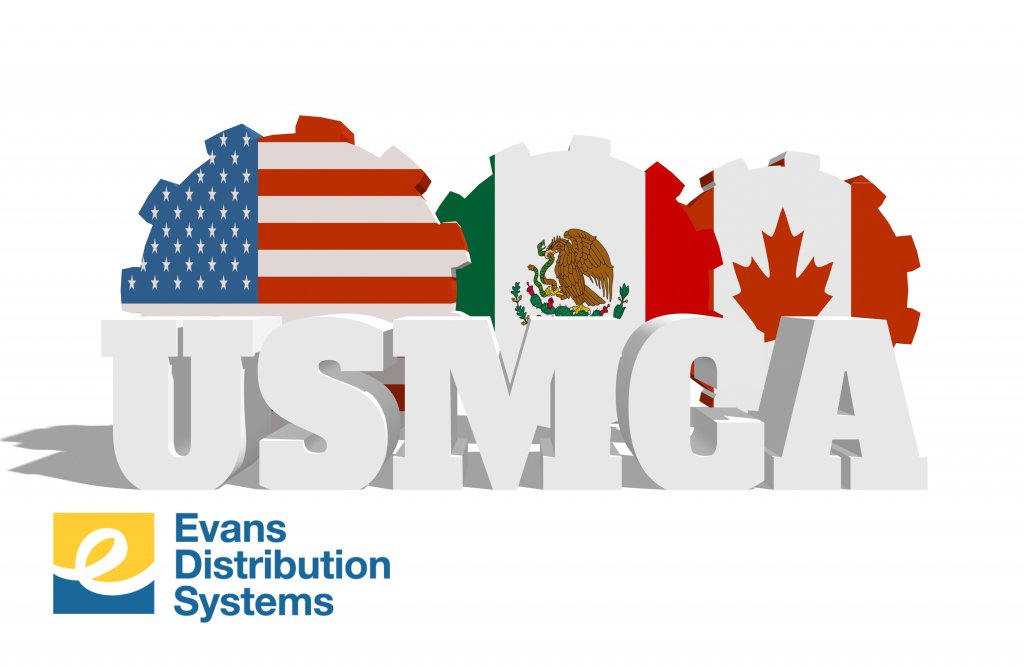 On July 1, 2020 the United States-Mexico-Canada Agreement (USMCA) will replace North American Free Trade Agreement (NAFTA). The new trade agreement updates policies to account for new technology and changes in the economy. The USMCA contains new laws related to intellectual property, e-commerce, and the internet which were not written into NAFTA. What does this mean for trade and manufacturing in North America? Here are some of the key takeaways.
The North American Auto Industry
In NAFTA, any vehicle assembled in the U.S., Canada, or Mexico must have 62.5% of the material used to make the vehicle produced in North America. The new agreement raises that number to 75% which would reduce the amount of materials purchased from competing countries like Germany and Japan. The USMCA has also made laws to improve wages by requiring 45% of vehicle parts to come from factories that pay production workers an average of $16 per hour. The hope for this is to increase purchases from the U.S. and Canada, while also increasing wages in Mexican factories.
Going Green
The USMCA will provide $600 million dedicated to fixing environmental problems caused by trades and manufacturing between the three countries. With climate change becoming a big issue in recent years, the new deal will have more regulations for environmental protection. These regulations will require each respected party to provide an environment impact report for new projects related to trade, and must adopt, maintain, and implement laws and regulations to meet the environmental standard of the USMCA.
Labor Laws Reform
In addition to wages in the auto industry, USMCA goes even further to create higher labor standards and making it easier to enforce these standards. NAFTA caused a lot of manufacturing jobs to be moved to Mexico because of their lower labor standards resulting in lower cost of manufacturing. This change in the trade agreement will help improve working conditions for Mexican workers and create more competition between each country.
The Sunset Clause
The USMCA addresses a wide range of trade policies including agricultural trade, digital sales, and intellectual property, all of which were not covered under NAFTA. To keep the USMCA up to date as new technology and businesses emerge, the Sunset Clause was written. This clause states that the terms in the trade agreement will remain in effect for 16 years. After 16 years the countries involved can choose to continue the agreement, renegotiate or add new sections, or withdraw from the USMCA altogether. This will give all parties involved the opportunity to improve the trade agreement after seeing the effect it has on their economy.
Trade agreements like USMCA, not only promote economic activity, but also job security and business innovation. We are optimistic about the positive impact of the new agreement during this difficult climate. If you want to review the USMCA, you can find each section of the agreement at https://usmca.com/.  Also, if you want to learn more about tariffs and shipping between countries, be sure to read our blog on "Foreign Trade Zone Advantages."