Evans is a special place to work. There are not many companies that have a big workforce and still manages to keep a positive company culture. We care about our employees. In fact, 11% of all Evans' employees have been with us for at least 10 years. To keep our culture and traditions alive, we are committed to creating internal programs to show employees how much we appreciate their hard work and loyalty—and have a little fun!
Here's a look at those internal programs that make our employees smile.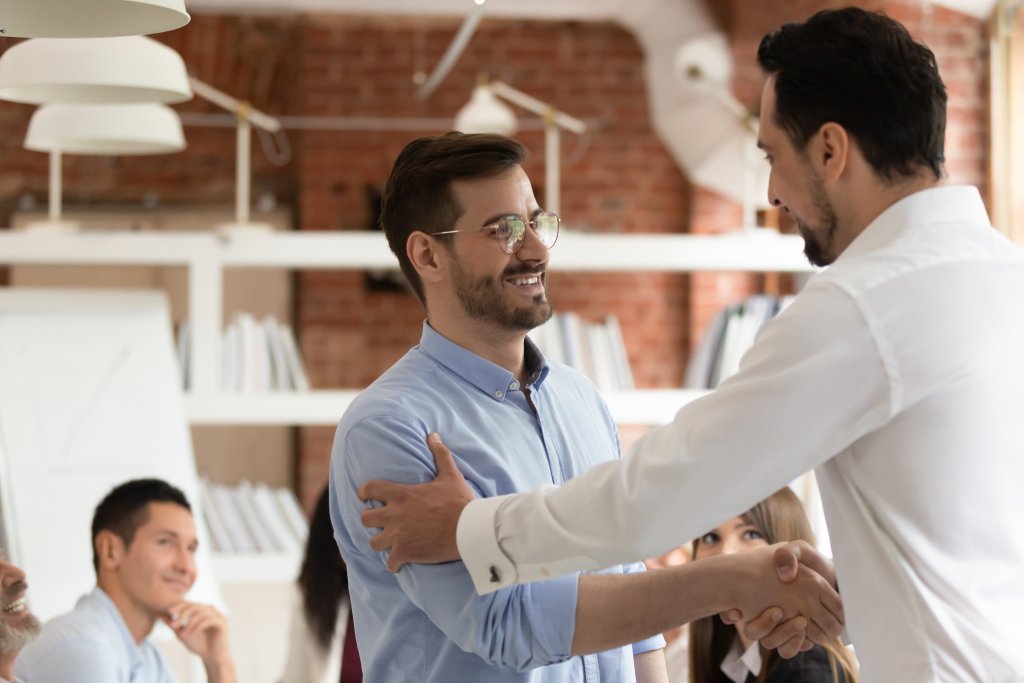 W.I.S.E. Award
The Working to Improve Satisfaction at Evans (W.I.S.E.) Award is the top employee recognition program at Evans. W.I.S.E. award recipients are nominated by their supervisors and/or peers. Employees who receive this award show leadership in their work style, attitude and performance. Award winners are recognized on the employee website where supervisors share how much they appreciate their hard work. It is a chance for us to show our employees that we see how hard they work, and we are grateful to have them on the team. This award is given out every month to one deserving individual who has gone above and beyond their normal job duties.
Carrot Wellness App
In an effort to promote a healthy lifestyle, Evans has adopted the Carrot Wellness App. This app counts your steps throughout the day and sets daily goals to increase your activity. Whenever you meet your goal you are awarded a coin, and if you collect enough coins they can be redeemed for prizes. We took it a step further and created an internal competition with teams of employees. Whichever team performs the best gets an additional prize!
Wellness Newsletter
The wellness newsletter is distributed monthly to the entire staff. There are a variety of mental and physical wellness topics such as heart-healthy lifestyle, meaningful connections, being active in the workplace, children's health, community volunteerism, and more. Each newsletter features a delicious recipe too! Like the Carrot App, this newsletter helps us promote a healthier lifestyle.
Committees
Our committees are made up of volunteers who focus on furthering areas of our company. Currently, we have the Sustainability Committee, focused on eco-friendly initiatives to reduce our waste and consumption. We also have the Corporate Social Responsibility Committee which focuses on giving back to our local community such as hosting food drives, participating in 5K charity runs, or volunteering at nonprofits.
Seasonal Activities
We celebrate nearly every season and holiday at Evans. There is always an event showing our holiday spirit, whether it be Halloween, Christmas, Thanksgiving, March Madness and Major League Baseball's Opening Day. The different departments decorate their work area in the spirit of the season. We also throw holiday-themed events like our recent Valentine's Day blog-a-thon. These events promote departmental team building and company-wide collaboration.
Promote from Within
Evans' 3PL Insights Blog features a variety of topics throughout the year, including ones where we give readers an inside look into the happenings at Evans. One of these blogs that showcases employees is the "Promote from Within" series. This topic takes a look at specific journeys employees have taken working at Evans and how their growth and development has blossomed through their experience here. Basically, it's a great way to brag about the awesome people who work here!
Lunch & Learns
Periodically, we host Lunch & Learns, which are educational lunches on various topics and are open to all employees to enjoy. Some of the topics we've covered include time management, leadership skills, the Carrot App, social security benefits, basics of saving and investing, and more. These special lunches give our employees the opportunity to develop their skill sets in new ways.
Litmos Training
Litmos training is an online educational portal that all employees take advantage of when they join Evans. The training content grows year after year as we continue to add presentations. Some of the content features leadership skills, AED training, paper roll training, diversity and inclusion, harassment training, and FTZ training. We are always working on new and interesting programming to enhance the Litmos library.
Quarterly Meetings
Evans hosts company-wide Quarterly Meetings for everyone to hear updates from each department and participate in a team-building exercise. We have had meetings at many different venues in and around Detroit, from bowling, to axe throwing, to wrestling, beer tours, and more. Each department is responsible for planning a Quarterly Meeting and they are a lot of fun. Plus, it's a great way to network and get to know people outside of your immediate department.
As you can see, we truly love our employees at Evans. There is a strong sense of family around here, no matter what level, role or location you serve. We continue to support employees in ways that go beyond most workplaces to attract the best talent and in turn, provide outstanding service to our customers.
Interested in working at Evans? Check out our latest openings.