Nearly 10 years ago, Evans Distribution Systems partnered with the American Red Cross Michigan Region in support of their mission to shelter, feed and provide comfort to people impacted by a disaster or emergency. Over the years, the partnership has been tremendously valuable for their volunteers, staff, and nine million residents across Michigan.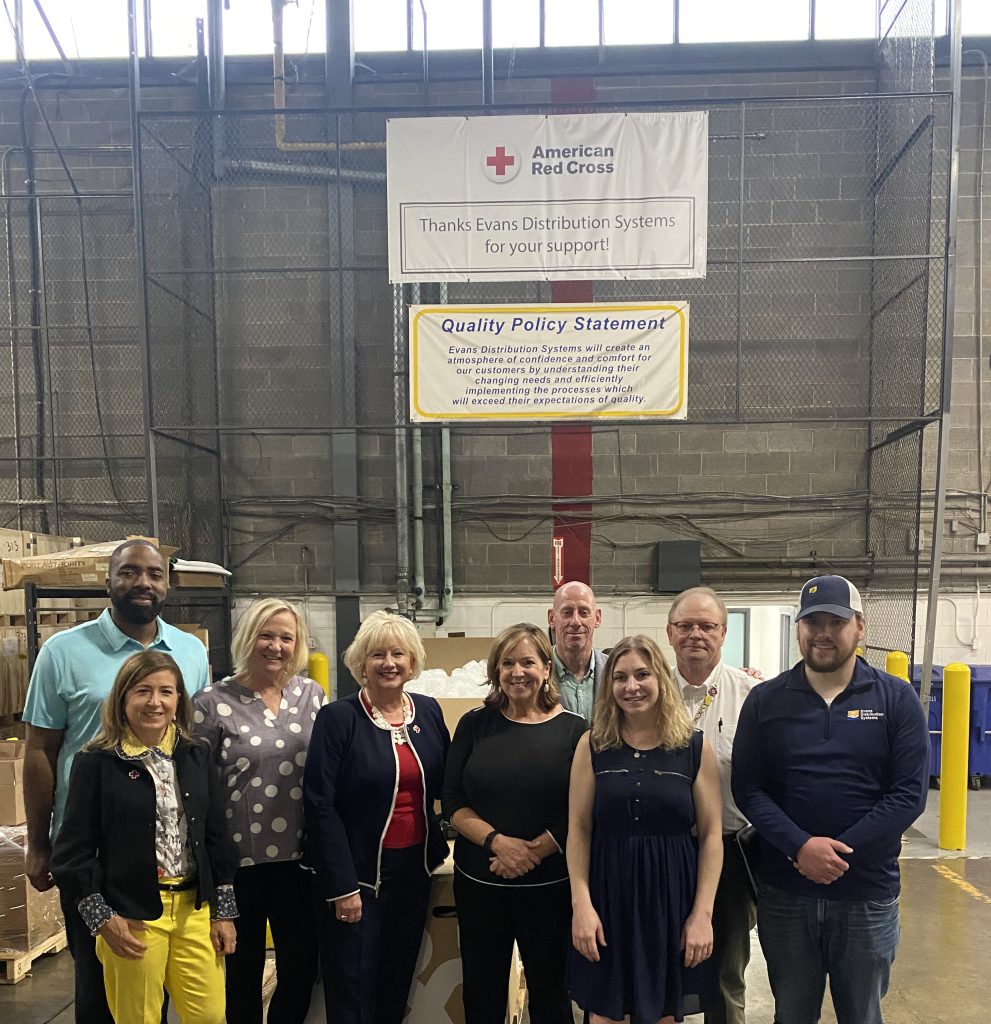 The organization provides shelter, food, emergency relief supplies, emotional support, health services and recovery assistance to those in need.
"We are grateful to Evans Distribution for securely housing our disaster response and relief supplies," said Mary Lynn Foster, Regional CEO, Red Cross Michigan Region. "Evans is a valued community partner, and we look forward to continuing our collaboration in the years ahead."
In addition to providing space, Evans has supported the Red Cross Home Fire Campaign, blood drives, and more. "Storage and logistics are invaluable in times of disaster," says John A. Evans, President & CEO of Evans Distribution Systems. "It is natural for Evans to partner with the American Red Cross having the necessary equipment and resources that are used in emergency response efforts."
The Michigan Region of the Red Cross includes six chapters located throughout the state, with its headquarters in Detroit. Other chapter locations are in Flint, Grand Rapids, Kalamazoo, Lansing, and Traverse City. Collectively, the Red Cross serves more than nine million people statewide.
Between July 2022 and June 2023, the Red Cross opened 10 shelters to assist Michigan residents who were displaced by a disaster or emergency, which included extreme weather events and home fires. These shelters provided comfort and care for residents for 181 overnight stays.
Additional preparedness, response and recovery efforts in that time frame include:
Provided more than 4,700 meals and snacks for residents impacted by disasters and emergencies.
Distributed more than 480 clean-up supplies to help impacted communities and residents. These supplies include tarps, shovels, rakes, gloves, garbage bags, hand sanitizer and cleanup kits of bleach, gloves, a mop/brush combo, and garbage bags.
Assisted more than 2,800 residents as part of their recovery after a disaster or emergency. This can include mental health, community resources and financial assistance.
More than 250 Michigan-based volunteers were deployed to assist in 13 Red Cross relief operations, including 95 who assisted in Hurricane Ian relief efforts in Florida.
Historically, the Michigan Region of the Red Cross has been a leader in coordinating volunteer deployments where it's needed most, whether it is a local or national disaster. But the work cannot be accomplished without reliable partners like Evans Distribution. In reflecting on our accomplishments from last year, one can only imagine the true impact that a decade-long partnership between Evans and the Red Cross has had on Michigan communities.