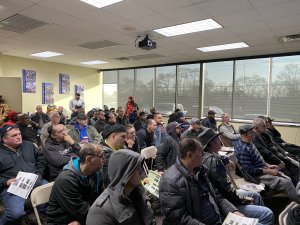 On Sunday, February 9, Evans Distribution Systems hosted our annual operations/safety meeting for our drivers at our Melvindale headquarters. The informative meeting is designed to hit the most important topics for our drivers to remain safe and productive in 2020.
This year, we had a packed house! As drivers ate breakfast as we covered a wide-range of topics including defensive driving, safety, vehicle maintenance, and hours-of-service laws. We also discussed the current state of the trucking industry in 2020.
"It was a great morning of education for our team as well as a lot of fun getting to spend some time with everyone," says Tony Trocki, Evans Vice President of Transportation.
Special thanks to our guest speakers:
Mike Monville from XRS discussed the latest ELD/HOS laws and requirements.
Chris Nau from Lytx who discussed the safety benefits of our new in-cab cameras that will be rolled out to our fleet during 1st
Also, a big THANK YOU to our amazing drivers, because without them we could never do what we do.