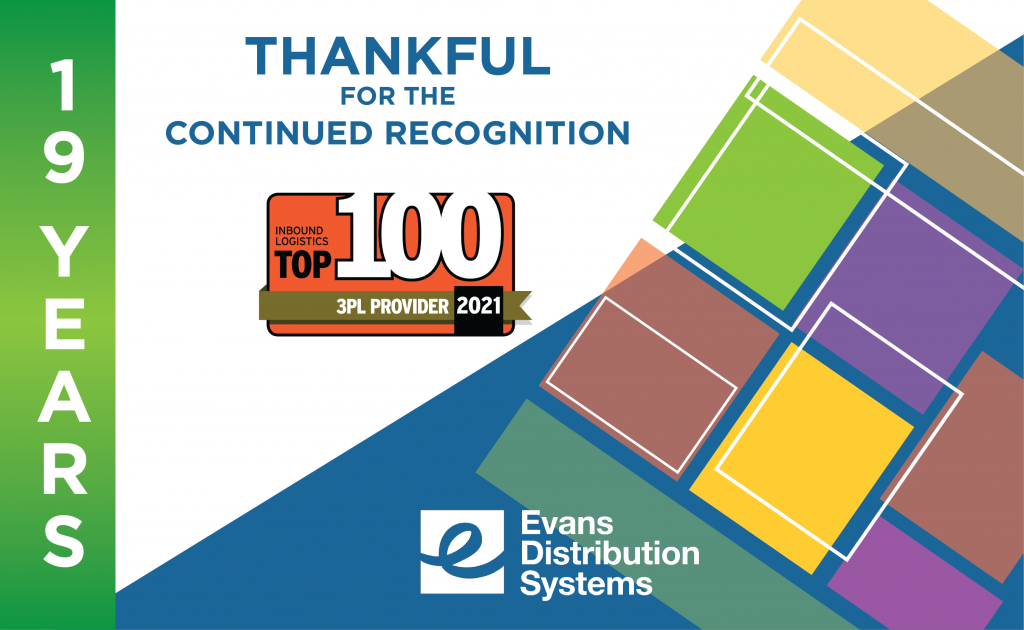 MELVINDALE, Mich. July 26, 2021 — Evans Distribution Systems, a third-party logistics provider, has been recognized as a "Top 100 3PL Provider" by Inbound Logistics for the 19th consecutive year. This recognition is an indication to customers and employees that Evans continues to provide innovative 3PL services at the highest level.
"Every year we are grateful to receive this recognition from Inbound Logistics," says John A. Evans, President & CEO of Evans Distribution Systems. "It's a true sign that we consistently deliver on our customer expectations and seek new opportunities to advance as a service provider."
Evans offers a full spectrum of 3PL services including warehousing, transportation, fulfillment, value-added services, staffing and packaging. After navigating through the pandemic, Evans rolled out several key initiatives to drive growth in 2021.
In 2021, Evans launched a new business intelligence tool, known as evans365, for customers to gain more insight into their account activity. The evans365 portal showcases warehouse data graphically and provides customers with interactive dashboards. Other achievements this year, include earning the ISO 9001:2015 certification at a fifth facility, refreshing the corporate website and enhancing online resources, and expanding international shipping services within the transportation division.
# # #
About Evans Distribution Systems
Evans Distribution Systems, headquartered in southeast Michigan, was founded in 1929 as the Central Detroit Warehouse Company. It has evolved into a full-service, third-party logistics provider offering warehousing, transportation, fulfillment, value added and staffing solutions to the automotive, manufacturing, food and beverage, consumer goods, and chemical industries. Evans currently employs more than 600 associates and operates over two million square feet of space in Michigan and across the U.S. Find more information on our website, www.evansdist.com. Read the latest supply chain insights at Evans' blog, or follow the company on Facebook and Twitter.