By Leo Stringa, Business Development Specialist
One of the most important processes a firm performs, relative to its supply chain, is the evaluation and identification of qualified suppliers. There are four main steps in finding the right supplier for a firm; determining source strategy, identifying possible suppliers, evaluating suppliers,  and selecting supply sources.  This decision can make or break a firm's supply chain, depending on their decision. Therefore, it is paramount the process is performed very carefully with great attention to detail.
Below is a diagram of how to setup sourcing requirements for a supply chain.  The left side denotes the requirements and the evaluative level, while the right side shows the procurement market and sourcing teams.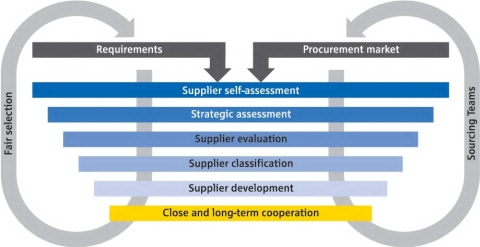 Like the old saying goes, "there is more than one way to do it right".
No single source strategy approach will satisfy the requirements of all supply chain managers. Therefore, to properly adopt the correct strategy, a manger must decide on the following key considerations:
•    Domestic versus foreign suppliers
•    Short term versus long term purchase contracts
•    Single versus multiple supply sources
•    Full service versus non-full service suppliers
•    Selecting suppliers that support the design process versus those who have no involvement in the design process
•    A close working relationship versus arm's length purchasing
Once a firm has selected an appropriate source strategy, it is necessary to identify possible suppliers and obtain details about their capabilities. The identification process can be done through the listed avenues below:
•    Current suppliers and/or past suppliers
•    Information/supplier databases
•    Trade journals & shows
•    Internal sources
•    Second-part or indirect information
•    Internet searches
Most notably, choosing the right supplier is done through supplier visits. During a supplier visit, use the key evaluation standards listed below:
•    Quality management
•    Technical capabilities
•    Operation & schedule capabilities
•    Financial strengths
•    Personal relations
•    E-System & EDI capabilities
•    ISO Certification
•    Inventory systems
•    Nature of shipping & receiving area
•    Nature of warehousing techniques
•    Enviormental & corporate social responsibility practices
•    Employee contracts & expiration dates if any
•    Names & contact information of key decision makers
After all information is collected from the potential suppliers, a firm can then move forward with the evaluation process. The evaluation process is shown in the flowchart below.
Supplier Selection Flowchart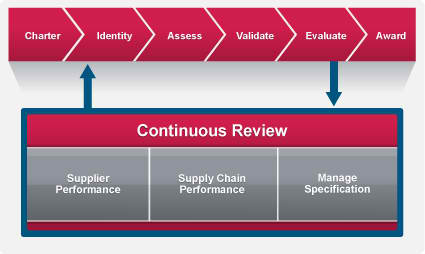 To fully examine all pertinent facets, we recommend 7 key steps to the evaluation process:
1.    Identify supplier evaluation categories
2.    Assign weight to each evaluation category
3.    Identify and weight each sub-category
4.    Define scoring system
5.    Evaluate supplier directly
6.    Review evaluation results and make supplier selection
7.    Review and improve supplier performance continuously
After this process, a selection is made, and continuous review and improvement will be critical to the long term success of the buyer-supplier relationship.
Sources:
Robert B. Handfield, Robert M. Monczka,Larry C. Giunipero, James L.Patterson. (2011). Sourcing Supply Chain Management. : South-Western Cenage Learning.