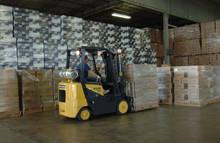 Capable of handling the supply chain needs of your food & beverage products
Evans Distribution Systems offers a total of 425,000 square feet of Food Grade warehouse space in Detroit, Michigan and Norfolk, Virginia. Our facilities are registered with the Food and Drug Administration and are continually inspected and monitored by the FDA, internal auditors and various client inspectors.
You can be assured that your food or beverage products will be handled in accordance with your quality and food safety guidelines while in our care. The latest warehousing technology systems will also help to ensure the quality and integrity of your products.
Our Promise for Safe Food Product Handling Includes:
Employees trained in proper handling and storage techniques
Regular inspections and sanitation monitoring
Documented maintenance procedures and records
ISO-9001:2000 quality work instructions & audits
WMS controlled FIFO tracking and handling
Right product, right place, right time – this summarizes how Evans runs their business, but with a personal touch!
In addition, our Food-Grade facilities are rail served and strategically located for Mid-Atlantic and Midwest distribution. If you are looking for Food-Grade storage space for your food or beverage products please contact us today.
As a third party logistics provider we can also provide complete freight handling and transportation management for your food and beverage products.