I recently attended the AWI (Associated Warehouses, Inc.) Annual Meeting, and while this was my first time attending I quickly learned why this was one of the favorite industry events for some of my colleagues.  It also did a lot to remind me how important business networking within your industry can be.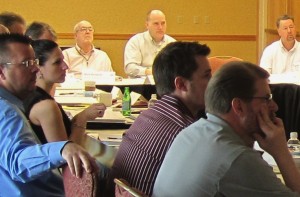 According to Wikipedia, business networking is defined as "a socioeconomic activity by which groups of like-minded business people recognize, create, or act upon business opportunities."  Considering the state of the economy over the last couple years, who couldn't use a little help, right?  Therein lies the value in networking within the industry.
We have found the value of AWI is in developing and building relationships through the network, and this recent event provided an atmosphere for education, genuine collaboration and sharing, and casual networking with companies that are very much like Evans operating in various parts of North America.
While I've talked/emailed many people within the AWI network over the years this was my first chance to actually put faces to the names.  I had the chance to learn much more about their business lives and personal interests, and developed a much more meaningful network of business friends.  The size of this event is perfect, allowing time to meet and talk with just about everyone.
You just might be surprised how hearing someone's persepective on an issue can change the way you have been looking at something within your own company.  Between the presentations and networking events at the meeting everyone leaves with great take-aways, and the best part is that the takeaways are different for everyone.  Some walk away with operational ideas, while others focus more on sales & marketing ideas, but there's value for everyone who attended.
What it comes down to with business networking is that you will get what you give.  You have to be willing to share your own knowledge and time, but in doing so you'll find others will respond in kind.  I'm looking forward to continuing to build relationships with those I've met over the next year, and to continuing to build my network within AWI and other industry associations.
What are your favorite logistics industry networking events and why?