eCommerce refers to the transaction of goods across the internet; a trend that has increased exponentially over the past years. The implementation of effective eCommerce site features can make for a faster, easier, cheaper exchange, as compared to traditional methods of business.
It's crucial to understand the makeup behind an eCommerce store. Here at Evans, we're capable of helping you to optimize your eCommerce store through the implementation of software like Shopify, Magento, and BigCommerce, which are platforms that can help to create a stunning store interface, help you develop your content, and even help with invoicing, accounting, inventory management, promotion, and more.
But what are other best principles in the creation of an online store, and why? Read on for more tips about how to optimize your eCommerce store through features that can help you to grow, focus on your marketing and content, and make more sales.
Customer Reviews
Hearing directly from previous customers is a great opportunity to showcase your product in a positive light. Many folks go directly to the customer review page before making a purchase—they want to know who else has enjoyed your product, and why. A good or bad review can make or break a sale. Feature positive reviews on your website, so others can see that you're offering quality goods. It's important to remember that while all reviews might not be positive, negative reviews lend more credibility to your product, and don't always necessarily prevent customers from purchasing.
FAQ Page and Search Function
Customers will always have questions about what you have to offer. Some websites even have a live chat feature that allows potential customers to ask questions about products, shipping, and other related questions.
Additionally, no customer wants to spend excessive amounts of time searching on your store's website. Creating a search function that allows for detailed searches (and even typos) assures that your customers will find what they're looking for readily. An efficient search function should be a basic requirement of your website.
Picture-Perfect Photos, Video
If you had to choose the one element that helps sell products, pictures make sales over text descriptions. Seeing your products displayed artistically in photos is a great way to generate interest. Depending on the product, video displaying how products are used is another great way to illustrate how your products work or can be used. This can also answer potential questions your customers might have.
Mobile-Friendly Website
If your website isn't mobile-friendly, it's time for it to be. There's no quicker way to direct customers away from a website when it's difficult to see on a phone. The vast majority of consumers look at websites on a phone, so it's crucial for an eCommerce store to be mobile-friendly. 
Live Chat
If you have the time and resources, a live chat feature on a website can help to redirect and clarify frequently asked questions. Engaging directly with customers whenever they need is a great way to improve the quality of your customer support. While a live chat isn't always a 24/7 service, a customer service button on your website can direct questions to an email, where you can then respond within business hours.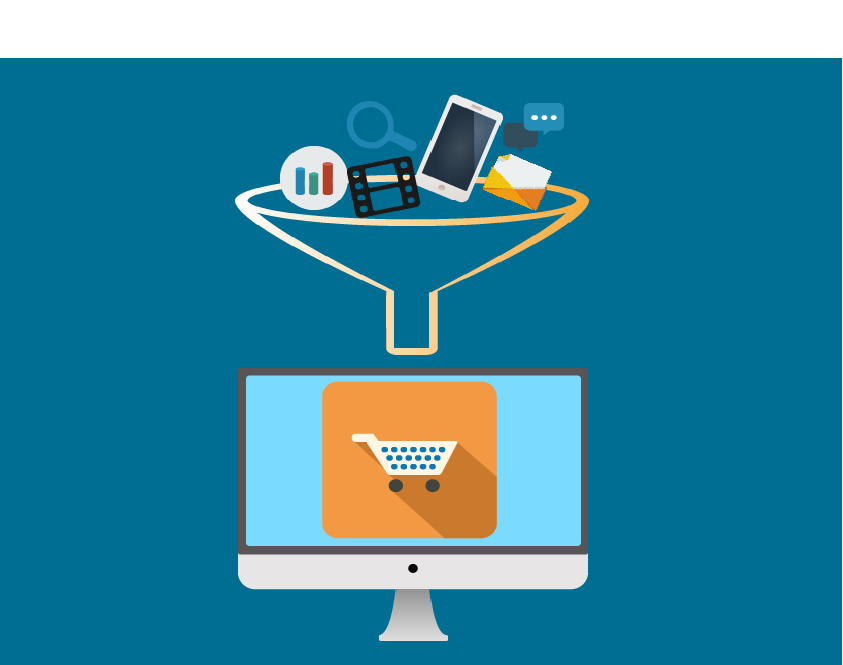 Social Media
Links to a store's relevant social media pages can encourage feedback and reviews. Often, potential customers will turn to social media in order to find out more about the products they are interested in. Customers want a real-life experience, and this is often expressed on social media. You can also engage with your customers on social media by asking questions, encouraging discussion, and sharing product updates. 
Discounts
Offering discounts or free shipping can help to convert customers who know they're getting something for the price of less. It's shown that customers have more of an inclination to buy when they believe they are getting something for free, or less. Free shipping, markdowns, gifts, and other types of freebies can help to convert.
Wishlist
A "wishlist" feature is a great way to turn a long lead into a sale. While a customer might not want to immediately purchase a product, there's always the chance they will think about what they are interested in and eventually, buy. While this might make for a longer lead, it's good to stay in the mind of the customer until they are ready to make a purchase. After all, not everyone wants to make an impulse buy!
Analytics
It's crucial to know what's going on behind the scenes, in terms of analytics. How many customers are spending time on your store's website? For how long? And what search terms are leading them there? When you understand your customer's interests and know exactly what your marketing efforts are doing, you can move toward improving your conversion rate since you'll have the evident research at the ready. 
Newsletter
A newsletter is a great way to add a personal voice to the customer experience. Pack your newsletter full of the discounts and deals you are offering; offer advice and guidance as to how your products will help them. Maybe you have customers that are wary of purchasing a product. Offer free advice, tips, and tricks to generate interest and lead them toward a potential sale. For those who sign up for your newsletter, you can offer a discount for first-time customers.
Blog
Similar to a newsletter, a blog can also help to generate interest for customers who are looking for something free—in this case, you can provide free resources in the form of helpful tips, suggestions for which product might work best for your customers, and more. A blog can be an educational resource that provides relevant information that answer customer's questions. Blogging is also a great way to generate more traffic for your business, and subsequently, sales. An SEO-optimized blog can also help your store to pop up in search rankings, thus drawing more leads to your business.
Get Ready to Jump-Start Your Business
eCommerce is an excellent opportunity for you to grow your business outside of the traditional brick and mortar store. Some stores solely exist online, and for good reason—it's an excellent opportunity for growth and exposure. As more and more customers seek out solutions online, your store can provide the answers in the form of products that cater to their needs.
When Evans takes care of the fulfillment capabilities of your store, you can focus on the elements of your store that matter most: your product development, marketing, finances, promotion, content, and more. By partnering with a third-party logistics provider with fulfillment competency, you'll optimize your growth and extend the reach of your eCommerce enterprise.
Check out some of our other eCommerce blog posts: