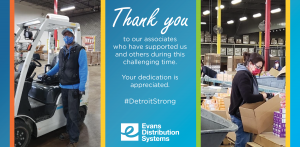 We hope you are continuing to stay healthy and safe during this crisis.
Last Friday, Gov. Whitmer extended the Executive Order 2020-21, also known as the Stay Home, Stay Safe order until May 15. The order was due to expire on April 30. The new restrictions require the majority of non-essential Michiganders to continue to stay at home, lifting a few restrictions on landscape and nursery businesses and non-essential stores to open curbside pickup operations. The new order also requires individuals to wear a face covering while in public.
Evans Distribution Systems, remains largely unaffected by the new order as an essential business but has adopted practices at our facilities to ensure the safety of our employees, customers and vendors.
Some of those changes include:
We record temperatures of all employees when reporting to work.
We interview all employees regarding possible symptoms or contact to COVID-19 when reporting to work.
We have procured face coverings for all employees to wear while onsite at our facilities.
We have issued a visitor face covering policy while onsite at our facilities.
We continue to sanitize with approved cleaning solutions across our seven facilities throughout the day and after hours.
We redesigned assembly lines and workstations to ensure associates are 6 feet apart.
Moving forward, we will begin to map out our company-wide plan to return to work for our employees who are working remotely.
We are here to support you. Please visit https://www.evansdist.com/covid-19-updates/ for company updates, forms, video messages and resources. Contact us any time at (313) 388-3200 or sales@evansdist.com if you need additional support or have questions about our new policies.
Wishing you a safe and productive week.